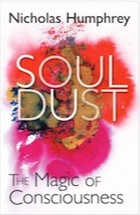 Caspar Melville writes about Nicholas Humphrey's new book "Soul Dust: The Magic of Consciousness".
I regularly have a very hard time to write a summary of a book, and Melville does a fantastic job. The review is very plausible and precise, and makes me want to read the book, in which Humphrey seems to offer a drastically reductionistic explanation of the human soul and the human consciousness.
Melville sums up one of Humphrey's main arguments:
[...]in principle it should be possible for science to theorise what consciousness is, because it has been "seen" by natural selection. If we have it, the evolutionary logic goes, then it must in some way be useful, or at minimum a by-product of something that is useful, to have survived and in fact have flourished in humans. If natural selection can "see" the "physical basis" of consciousness in order to prefer it, then so, if we can develop the right conceptual armoury (something he acknowledges he has not fully achieved), can we. "Everything suggests," Humphrey says, "that consciousness in all its glory has been designed, preferred through natural selection and amplified by evolution."
Beautifully simple. I find the problem itself very hard to comprehend and am not sure at all whether this is a viable approach, but the idea itself is great, the argument itself well constructed.
"For a phenomenally conscious creature, simply being there is a cause for celebration."
– Nicholas Humphrey
"I suggest that organised religion is parasitic on spirituality, and in fact acts as a restraint on it."
– Nicholas Humphrey
Amazon wishlist. Birthday present, anyone? ;)
(and once again: thanks to S.)